Mold is a serious health hazard for many homeowners in Georgia. The state's humid sub-tropical climate makes both residential and commercial buildings throughout the region susceptible to the threat of mold growth. For the sake of health and well-being of the occupants, delaying preventative or remedial action is never a salient idea.
In this guide, we will explain everything you need to know about effectively handling a mold infestation on your property. Learn all about the basics of Mold Remediation, how to prepare for it, and why you should seriously consider hiring professionals instead of going the DIY route for mold inspection Savannah, GA.
Why You Need a Professional Company to Handle Your Mold Problem?
Mold is not something you should take lightly as a property owner in Georgia. If left unaddressed even for a few days, it can make your life uncomfortable in more ways than one. And if you are interested in taking a DIY approach to mold removal, we can say with utmost confidence that in 99.9% of cases of significant and visible mold damage, that's not a stellar idea.
The best option for mold removal, be it from a practical, financial, or personal safety perspective is to call in the professionals. If you need more convincing, here are five reasons why mold remediation is best left in the hands of professional cleaning companies like Bio-One Savannah:
Mold is a Known Health Hazard
In the popular video game/TV series The Last of Us, the main villain is a fictionalized version of a real world fungi/mold called Chordyceps. While mold capable of turning humans into undead zombies doesn't exist in real life, many species of mold can release deadly toxins harmful to human health.
Stachybotris chartarum, a species of black mold commonly found inside homes and buildings with water damage, can cause serious health risks in children, the elderly, and individuals with a compromised immune system.
Due to the risk of severe adverse health effects in the long run from mold infestation and its impact on indoor air quality, it's best not to take a casual DIY approach in handling any instance of suspected mold infestation. Trained and experienced mold removal teams can guarantee dependable service and peace of mind.
Mold Can Ruin Your Property's Resale Prospects
Real estate is widely considered as a reliable hedge against inflation. But getting a good price for your residential property is next to impossible if it has any visible signs of a mold infestation. Most buyers will back out of a deal at the first sign of mold.
And people these days are mindful of the risks of black mold when buying a home. They will call in professionals to conduct a thorough inspection of your property for signs of health hazards like lead paint and hidden mold damage before going ahead with a sale.
If you are planning to put the property on the market any time soon, it is in your best interests to call a professional clean-up company for a thorough mold inspection. If they don't detect any signs of mold damage, you can get that in official writing to reassure prospective buyers.
And if they find traces of mold, you can get it removed and get official documentation to prove that you have done everything possible to remove the threat. For landlords looking for a quick, hassle-free sale, a professional mold inspection is well-nigh essential.
Mold is Not Easy to Detect
Unless you have a severe case of infestation with considerable water damage on your walls and ceiling, a mold infestation is not that easy to detect. If in the early stages of the infestation, there may not be any visible signs of mold damage.
Mold Remediation experts know how to look for the tell-tale signs of a mold infestation, even if it is buried deep inside your walls, floor, or ceiling. The professionals have the experience of tackling mold in a wide range of scenarios, in different types of buildings.
Special Equipment and Protective Gear is Required
Given the serious health risk posed by mold, full personal protective equipment is essential for anyone attempting to tackle a mold infestation. This includes gloves, masks, respirators, goggles, and full-body coveralls. On top of that, you need to isolate the affected area using plastic sheets.
Any mold remediation process also requires industrial-grade vacuums with HEPA filters to capture spores that are released into the air. You also need special anti-bacterial solutions to kill the mold growth. Cobbling together all that gear is not easy for the average landowner.
Mold is Stubborn and Not Easy to Remove
All it takes is the spread of a few errant spores through the air for a mold infestation to start anew from a different location in your house. If you try to tackle a mold remediation project on your own, there is a high risk of not completely eradicating the fungus from your home.
Apart from cleaning out and replacing any surfaces with visible external damage, you may also have to treat surfaces that are not readily visible, inside floorboards or drywalls. A mold remediation company knows all that and usually does a deep cleaning to prevent regrowth.
What is the Process for Mold Remediation?
Mold Remediation is a step-by-step process by which the Bio-One cleaning teams professionally detect and eradicate the presence of any potentially dangerous mold infestation inside your home or business premises.
People usually call professional mold remediation teams when they detect (or suspect) a mold infestation in the building. Here are some of the signs that you need to call Bio-One Savannah for professional Biorecovery mold remediation:
You can visually see signs of mold infestation on parts of your walls, ceiling, or floor/basement.
You have serious concerns about the indoor air quality in your home.
You can sense a damp, musty, rotten odor emanating from your floors or walls.
Your family experience frequent allergy or asthma flareups.
Your home/building has suffered significant water damage through floods, water leaks, sewage leaks etc.
If you see or experience any of the situations mentioned above, it is time to call in some assistance from a professional mold removal company like Bio-One Savannah. Time is of the essence here – particularly in a warm and humid climate like Georgia, mold spores can grow and proliferate within 24 hours.
If you delay the Biorecovery mold remediation process by weeks or even days, it will lead to greater damage to your home and increased repair costs. If you have never called in professional mold removers, here is a quick guide on how the entire process works:
1. Call the Clean-up Company
If you spot or suspect a mold infestation, it is vital that you call professional mold removers and not the local handyman. With a professional entity like Bio-One Savannah, you get the assurance of a skilled team of experts, armed with all the safety equipment and gear.
Our teams follow EPA-mandated safety protocols while removing any mold from your property. You can expect reliable and effective mold remediation, undertaken within the shortest possible timeframe, and minimal impact on the unaffected areas of your home/property.
As the first step of the Biorecovery mold remediation process in Savannah GA, give us a call at 912-755-1211. Our services are available 24/7 – just put in a service request with the relevant details and we will take care of everything.
2. Schedule an Initial Assessment Visit
Before any kind of mold remediation, you have to perform a thorough assessment of your property to gauge the severity and extant of the mold infestation. Our mold removal experts will visit your property on an appointed time and perform an in-depth assessment.
Professional mold inspections typically include a visual inspection, as well as the use of specialized equipment like thermal imaging cameras and moisture meters. These allow the experts to gauge the severity of the problem – if the house is very warm and humid, with high moisture content in certain surfaces, chances are you have a severe mold problem.
The process will go a lot quicker if you already know the location of mold infestation. The experts will assess the visible damage, and fan out to look for potential spread of the problem to other hidden corners of your home.
Once we get the full picture, we will give you our estimate regarding the time and costs involved. After the initial assessment, our team will schedule a convenient date at the earliest for the Mold Remediation process and give you further instructions on preparing the property for mold removal.
In normal situations, we typically do not request a mold test using air samples collected from your home. Mold testing is done when a customer wants to know for certain that dangerous species of mold is not present inside their homes.
3. The Actual Clean-Up and Mold Removal
On the scheduled day of mold remediation, our team of Bio-One Savannah cleaning experts will come with all the equipment and materials necessary to eradicate mold from your home. Before our arrival, you can prepare your property for mold remediation by doing the following things:
Removing as much furniture and other large items from the area affected by mold (take care to ensure that you only remove objects that are not already affected by mold).
Removing objects from your front entrance to the affected areas, creating better access to the cleaning teams.
Sequestering any dogs or other pets you have in a different part of the home, or out in the backyard.
Moving any cars from the garage and driveway to provide unfettered access to the cleaning team van/truck.
On the appointed time, our team will arrive, unload the equipment, and gear up with PPE kits for the mold remediation process. Depending on the severity and complexity of the infestation, it could take our teams anywhere from 1 to 3 days to remove all the mold and make your home safe for human inhabitation again.
How Does Bio-One Savannah Clean Up Mold in a Home?
Our fully trained experts follow a strict protocol when performing a Biorecovery mold remediation of your home. It involves the following steps after arriving on the site and getting fully suited up:
Containment of the Affected Area
The team will use plastic sheets to create a secure zone around the mold affected areas. The process of cutting and removing damaged surfaces will release fungal spores into the air. Isolating the area with secured plastic sheets will minimize the risk of spores spreading to other parts of your home.
We also use powerful vacuums with HEPA filters to ensure that any spores released into the air during the cleaning process is promptly captured and not allowed any time to escape.
Removal of the Source of Humidity
The first order of business is to stop the supply of water to the mold. If there is a leak or some other kind of plumbing or sewage issues, our team will rectify that first. If the moisture source is not identified and removed, the mold will return within a few days.
Removal of Contaminated Materials
When mold takes hold of porous surfaces inside your home like drywall, plaster, clothing, fabric covered surfaces (like sofa furniture), or carpeting, we have no option but to remove these contaminated materials. Items once damaged by mold are usually not recoverable and cannot be cleaned.
Our team will cut away all affected dry-wall, plaster, and so on from the interior walls and securely collect them in air-tight plastic waste removal bags. We will handle the safe disposal of these contaminated materials in line with the local laws and regulations on the handling and disposal of biohazardous waste.
Cleaning Along With the Application of a Mold Killer
Once the severely damaged surfaces are removed, the team will scrub away all physical manifestations of growth from the remaining areas. Then, they will apply an EPA-approved chemical called a biocide – this is a special chemical that is designed to kill all mold spores and growth.
The substance is sprayed on all affected surfaces. The biocide needs some time to get the job done – the team will leave the work area after applying the substance. It could take anywhere from a few hours to a day the biocide to work. We also have to wait for the affected area dry up for the final step.
Encapsulation of Remaining Spores
Our team will spray the treated surfaces with one final coating of special paint or whitewash. This will ensure that any surviving spores are trapped and has no way to grow. With this step, the Mold Remediation is complete.
For a Lasting Solution to Your Mold Related Issues, Call Bio-One Savannah GA Today!
Bio-One Savannah is the trusted name for mold remediation and biohazard decontamination in Savannah, GA, and nearby locations like Brantley County, Bulloch County, Camden County, Liberty County, and Toombs County.
To schedule an initial assessment of the mold problem in your home, or to find answers to any other queries you may have about our services, give us a call at any time at 912-755-1211. Alternatively, you can fill out the service request form available on the Contact Us page of our official website using this link. To read more of our content, visit our Blog Page!
Biohazard may sound like an intriguing word to the average consumer. It is something we are accustomed to seeing in spy thrillers and zombie movies. With that said, hazardous biological materials don't just mean viruses bred in high-tech labs – they can even be something as mundane as animal waste or human bodily fluids.
When tragedy strikes in the form of murder, suicide, or accidental animal deaths on our property, it raises the risk of our exposure to dangerous viruses and bacteria that causes diseases like HIV Aids, Hepatitis, and MRSA infection. If your home or business properties in Savannah, GA have been caught up in any kind of traumatic accident or incident, you will need the services of Bio-One cleanup and biohazard decontamination services.
In this guide, we will look at the wide range of Bio-One cleaning services and explain the myriad biohazard decontamination situation in which you may require expert decontamination and biohazard cleaning.
Bio-One Savannah: A Highly Rated Biohazard Cleaning Team You Can Trust
Bio-One is a leading name in the highly specialized industry of crime scene clean-up and biohazard decontamination in the country. A pioneer in this nascent field, Bio-One has franchises in over 41 states, spread across over 100 locations, including Savannah and nearby counties in Georgia.
Crime scene clean-up is a relatively young sub-sector in the wider professional cleaning and janitorial services industry. In the United States, there are roughly 20,000 homicides, over 45,000 suicides, and 2.55 million instances of violent crime each year (2020 figures).
Many of these incidents lead to the creation of crime scenes filled with blood, feces, and other bodily fluids. In the past, property owners had no other recourse when it came to cleaning the premises after the conclusion of law-enforcement procedures.
There was no specialized business offering dedicated to cleaning up biologically hazardous materials from crime scenes. This resulted in unnecessary stress and trauma for many, particularly when families had to handle the horror of cleaning up after a violent death or suicide.
Bio-One was the first decontamination and bioone cleaning company to provide a viable and practical alternative. Our specially trained biohazard decontamination professionals serve both residential and commercial customers as last responders, providing comprehensive remediation in odor removal, blood spill cleanup, homeless encampment cleanup, suicide cleanup, and other services. With Bio-One Savannah decontamination and biohazard cleaning services, you get the following assurances:
Trained and Well-Equipped Professionals
At the end of a typical biohazard decontamination job, there should not be a single trace of the tragedy/violence that took place in the space before – this is vital for the successful completion of a task in this industry.
This calls for proper training of cleaning staff – safe removal of blood and body fluid stains from a wide range of materials and surfaces require knowledge of advanced cleaning techniques and tools.
Given the risk of infection from blood or animal remains, cleaning professionals also require training in the use of personal protective equipment (PPE) in any biohazard decontamination situation. They also have to learn how to safely package and dispose of hazardous materials in accordance with FDA guidelines and local regulations.
This is why all Bio-One crime scene clean-up crews are fully trained and educated on the various aspects of the job before they are sent out to professionally complete various decontamination and biohazard cleaning projects.
Integrity and Compassion
Many crime scene cleaning projects involve visiting private residences or business premises. Our decontamination and biohazard cleaning professionals routinely have to deal with individuals and families who have undergone a life-changing situation, or a highly traumatic experience.
They understand the need for a delicate yet comprehensive cleaning approach, with an emphasis on respect and compassion for the families. Bio-One teams make it a point to cause minimal disruption and always try to discreetly remediate impacted spaces.
We offer discreet crime scene cleanup services to our clients. The focus is entirely on removing all traces of the incident in the shortest possible timeframe so that everyone can put it behind in the past and move on with their lives.
We also conduct background checks on all candidates we interview for a job on our biohazard crime scene cleaning crews. Random drug tests are routinely conducted among our workforce to ensure that we only have individuals who show a high level of integrity on every crime scene cleaning team. This is critical in a business where crews often spend long hours working inside private residences or premises with items of a high value lying around.
Flexibility and Commitment
Crime and violence do not keep any fixed schedule. Mishaps and accidents can happen at any time of the day. We understand how our clients can end up needing a hand in dealing with a crime scene biohazard cleanup at odd hours or at night.
This is why Bio-One support is available 24x7 – you can call us at any time, so call as soon as you need Savannah GA crime scene cleaning services at 912-755-1211. Upon answering the call, we will quickly assign the project to a scene-cleaning team nearest to your location. Our biohazard cleaning team will reach your address in the shortest possible time to handle all decontamination and biohazard cleaning needs.
When Should You Call Bio-One Savannah?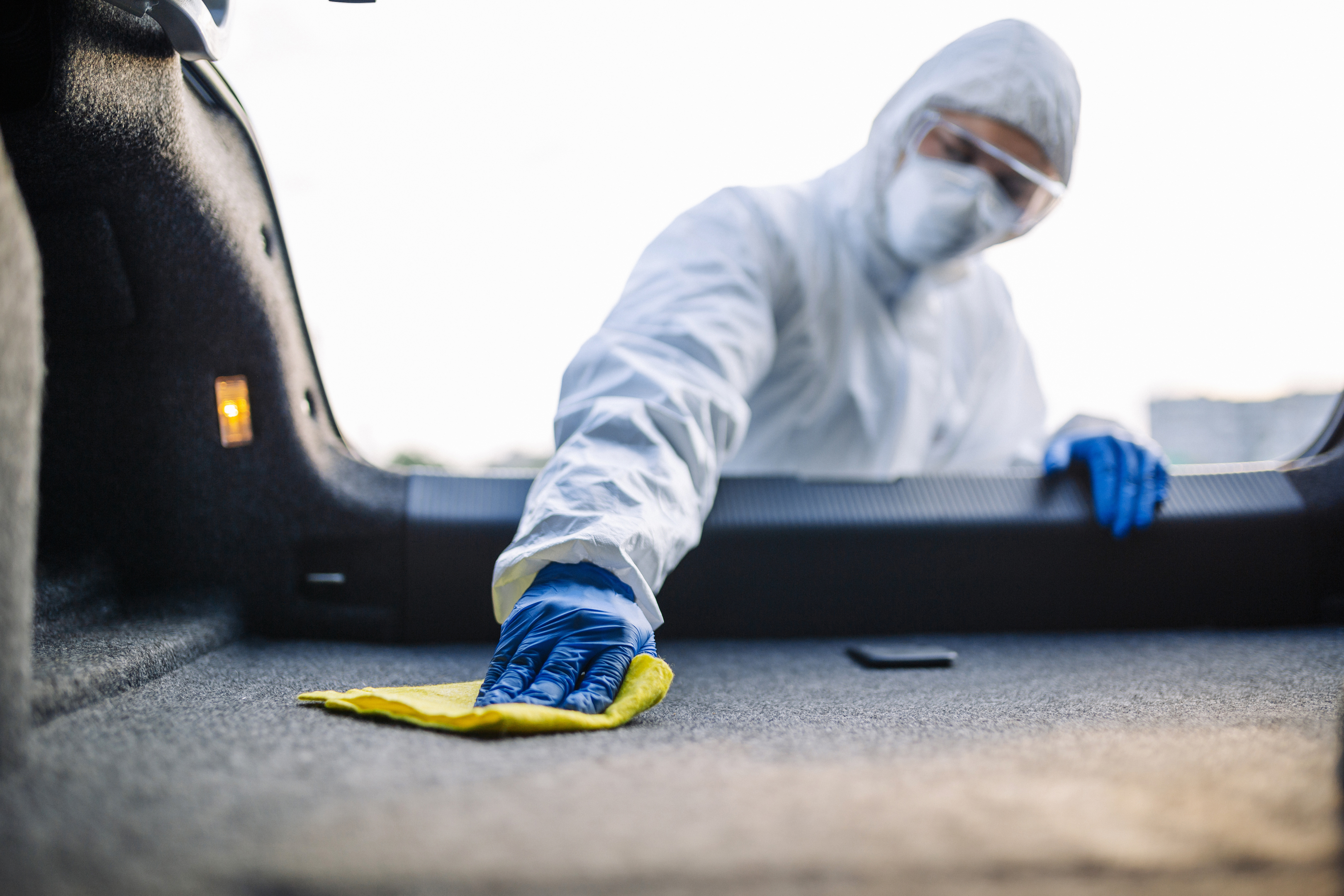 Biohazard cleaning and containment services can prove useful in a wide range of situations. The following are some of the situations where Bio-One Savannah's experienced and discreet crime scene cleaning services can come in handy.
Crime Scene Cleanup
In the immediate moments after a crime, the location falls under the authority of local law enforcement. After the detectives and crime scene investigators have collected all the evidence they deem necessary, the control over the scene is handed over to the original owner largely intact. Crime scene cleanup is not the duty of law enforcement officials or first responders. If there are any blood stains, body fluids, or other biological particles, you need a crime scene cleaning team with prior experience in discreet crime scene cleanup and biohazard decontamination.
Depending on the nature of the crime, you may also have dangerous chemicals, drugs, and other high-risk materials on a crime scene cleanup location. Our cleanup and biohazard decontamination experts have the relevant knowledge and equipment to remove all traces of the incident. BiO-One biohazard cleaning team will discreetly remediate impacted spaces, leaving your property looking spotless, and above all, safe and decontaminated.
Suicide Cleanup
Suicides are much more common than homicides in the United States. In our line of work, we routinely disinfect locations where a suicide has occurred. In the case of a crime scene, once the police and paramedics leave with the body, people call in Bio-One teams for discreet crime scene cleanup.
Every suicide is a great human tragedy – our decontamination and biohazard cleaning teams are always mindful of the toll it takes on family members in the aftermath. We make it a priority to listen to our client's needs and provide a compassionate and highly invigorating service experience.
Firearms and Blood Spill
Since firearms are frequently used in suicides, the scene may have considerable bloodstains and other body fragments. A comprehensive cleaning approach is essential to totally disinfect a blood spill.
Our decontamination and biohazard cleaning experts leave no stone unturned to comb the suicide cleanup scene and remove every single trace of the tragedy and render the place fully sterilized and safe for further use.
Odor Removal
When things smell bad, it is a sign of danger – organic materials give off odors when bacteria are present in large numbers. Toxic chemicals also often have strong odors that give you advance warning of the danger they may pose to your health.
Minor odor complaints can be handled with deodorant products available in the market. But when these products simply fail, it's time to call the experts in decontamination and biohazard cleaning at Bio-One.
Intense Bad Smells
Our crime scene cleanup and biohazard containment teams often deal with house calls where intense bad smells pervade an area due to an accumulation of water damage/mold, urine, fuel/chemical spills, cannabis, and other drugs. These are all situations that require a cleanup and biohazard decontamination company.
Instead of trying to mask the smell with fragrance, the biohazard cleaning team will identify the source and remove it from the scene. This usually involves removing surfaces that have come in contact with the offending substances – carpets, flooring, tiles, drywall, and so on.
Dead Pets, Animals/Rodents
Death is never a pleasant sight, especially when it comes to animals. Whether it is your favorite pet dog or a wild coyote, once they die, decomposition can set in rapidly. Given the humid sub-tropical climate in the state, biohazard decontamination professionals serving Savannah GA often face this challenge.
Sometimes, matters can get even worse – small rodents and vermin often roost in hiding places inside your home – attics, between drywall panels, crawlspaces, basements, and the list continues. And when these animals die, their carcasses are left to rot since nobody can see them. The resulting stench can make your home uninhabitable and pose a potent biohazard risk through the presence of bacteria. Our scene cleanup and biohazard decontamination technicians come fully equipped with masks and other protective equipment.
They will locate the carcass and handle all the decontamination and biohazard cleaning requirements on the spot. And you don't have to worry about carcass disposal either. The Bio-One biohazard cleaning team will safely bag it in compliance with municipal laws and regulations, and dispose of it in a safe and hygienic manner. A Bio-One Savannah scene cleanup and biohazard team can handle all your animal-related cleanup and biohazard decontamination needs.
Decomposition/Undiscovered Death Service
Sometimes, suicides and natural death involving people who live alone in an apartment can go unnoticed for days or even weeks. This will result in quite horrifying levels of decontamination of the surrounding area.
The human body can give off potent odors and ooze liquids and gases after a few days of putrefaction/decomposition. You may feel that it's impossible to fully disinfect and recover a space that has seen such horrid levels of contamination.
But through the careful application of industrial-grade deodorizers and disinfectants, our biohazard cleaning team can help you overcome even scenes of decomposition/undiscovered death. As always, Bio-One decontamination and biohazard cleaning teams offer a discreet and compassionate service to our clients who are traumatized by such events.
Feces/Urine Cleanup Service
Human and animal waste are fertile breeding grounds for dangerous micro-organisms. The list includes diseases such as Hepatitis and E Coli. You cannot leave such areas untreated if you have people living nearby.
Our decontamination and biohazard cleaning teams handle both human and animal feces/urine removal on a regular basis. Our teams efficiently remove both the actual waste particles and any residual stains or odors that remain in the area.
Homeless Encampment Cleanup Service
Homelessness is a socio-economic tragedy that affects many local communities, particularly those in urban areas. In relation to this, homeless encampments can also pose a nuisance to owners of vacant buildings as well as the general public.
Bio-One homeless encampment cleanup teams work in close coordination with local law enforcement to handle homeless encampments with the utmost respect and care. A vacated camp is rife with biohazards like feces, urine, blood, body fluids, junk, and used hypodermic needles.
Our homeless encampment cleanup team will clear up everything and decontaminate the space while paying close attention to any valuable belonging to the individual residents of the encampment. We make it a point to treat all unfortunate unsheltered individuals with compassion and respect. Learn more about our homeless encampment cleanup service by contacting today!
Decluttering and Hoarding Cleanup
Hoarding is a very common behavior often associated with various forms of mental health disorders. Often such residences suffer from an accumulation of garbage, rotten food, animal feces (with pet hoarding), and even human feces/urine.
This is an incredibly painful problem to deal with if the victim is someone in your family. Bio-One technicians offer a highly compassionate and discreet decontamination and biohazard cleaning service to the community, keeping in mind the unique needs and concerns of your situation.
Our teams excel in providing clear supportive communication to our clients. and offer a wide array of services, including deep cleaning, garbage removal, decontamination, and recovery of valuables hidden or lost amidst piles of junk.
Bio-Recovery Mold Remediation
A mold infestation in your house can create health problems for children and seniors in your family. It can also degrade the building materials and give off foul odors that reduce indoor air quality. In extreme cases, a major mold infestation can make any home unlivable.
Apart from health issues, mold can also drastically reduce the sale value of any real estate property. Biohazard decontamination professionals serving Bio-One clients in Savannah GA are well-versed in the art of seeking out hidden mold infestations and then rooting them out using the best-in-class disinfectants and decontaminants.
If you suspect the presence of mold in your house or rental property just give us a call – we will send a biohazard cleaning team to conduct an initial mold assessment. If the presence of mold is confirmed, we can help remove all traces of it with extreme prejudice.
Choose the Most Dependable Provider of Biohazard Cleanup Services - Bio-One Savannah!
If you find yourself in any of the situations mentioned above, you can rely on Bio-One Savannah in Georgia for all your specialized crime scene cleanup and biohazard decontamination needs. We can also work with your insurance company to reduce the out-of-pocket costs of any biohazard decontamination job.
As a trusted experienced and discreet decontamination cleaning company, we provide comprehensive remediation in niche situations like tear gas removal, emergency vehicle decontamination, blood spill cleanup service, and medical waste disposal.
To request any of our decontamination and biohazard cleaning services in Savannah GA, or surrounding communities, give us a call at 912-755-1211 or fill out the Service Request Form on our Contact Us page. To read more of our content, visit our Blog Page.
The holiday season is usually a mixed bag for most of us. On the one hand, there is the exciting prospect of spending time with friends and family, buying gifts, and maybe even taking a vacation. But on occasions, holidays may also be a time of stress, loneliness, and depression.
For some reason, the holiday season also sees higher rates of crime – ranging from shoplifting to petty theft, robbery, and even violent crimes like assault and battery. In particular, if drugs, alcohol, or firearms are involved, things can turn south really fast, leading to a messy crime scene at Christmas.
Why do crime rates spike during Christmas, when it is a time meant for festivities, for happiness, Jesus Christ, family, giving, and gaiety? Why should you call in the experts to clean up a crime scene on your property as soon as possible? These are some of the questions we will address here. But first, a little about us:
Bio-One Savannah is a leading provider of decontamination and biohazard cleaning/crime-scene cleanup services in multiple counties surrounding Savannah along the Atlantic Coast of Georgia. You can find the complete list of areas we serve on this page.
If you end up with a crime scene on your property, stay calm and call us at 912-755-1211. Our dedicated team of crime scene decontamination and biohazard cleaning experts will remove all traces of the incident and return your property back to its original state.
Does Crime Actually Increase During the Holiday Season?
The holiday season usually refers to the time between Halloween and the New Year, roughly two months long. In many parts of the northern and western United States, this period is marked by heavy snowfall and freezing temperatures.
Colder temperatures usually reduce human activity, which also includes crime. Across the United States, the peak crime rates occur in the warmer spring and summer months. Based on this, there is an exception to this rule.
During the holidays, particularly as we get closer to the end of the year in December, there is a subtle increase in crime rates in many parts. The increase can be as high as 20% during the Christmas season, according to the National Crime Victimization Survey.
This spike is directly related to an increase in several different types of crime – larceny, robbery, and to an extent, burglary. What is the difference between these three? Let's find out:
Larceny: Simple larceny is usually a misdemeanor crime involving the theft of low-value physical objects from their owners. If the object stolen has a value beyond a certain threshold, then larceny becomes grand larceny, a felony crime.
Robbery: This is a more severe form of theft where the criminal uses force or threat of force to deprive the victim of their possessions. Even if no violence is inflicted, the threat of violence is enough to classify theft as a robbery. And in most cases, robbery is considered a violent crime and can carry a felony charge.
Burglary: When a criminal breaks into private property unlawfully to commit a crime or theft, it is called burglary. The property could be a house, building, field, or even a car. Burglary is always a felony, even if the actual intent of the criminal was just a misdemeanor.
Murder rates do not increase during the holiday season. Instead, most murders are committed in the summer. However, the same cannot be said about other forms of violent crime like assault and battery – they can go up by a few percentage points during Christmas.
In effect, we can say that while the more severe crimes like murder decrease during the winters, criminal activity overall does see double-digit growth as we get closer to Christmas and the new year.
Why Do Crime Rates Go Up at Christmas?
Crime is a very complex matter involving numerous variables – psychological, economic, and social. We can only make some educated guesses regarding the various factors that contribute to an increase in criminal activity during the holiday season. They can include the following:
Opportunity
Holidays are a time of frenetic shopping activity – imagine crowds of people walking around with cash and other valuables on their person. People often leave their valuables and gifts in cars at their homes during the winter shopping spree. And many families often travel during this season, leaving their homes vacant – all easy targets for the opportunistic criminal.
Desperation
Christmas is also a painful season for your wallets – buying gifts, food, and drinks for family and friends can cost a small fortune. Many criminals often act out of sheer desperation in an attempt to get gifts for their families. Others are sometimes just flat-out broke and want money to get them through the cold months.
Porch Piracy
This a relatively new form of theft that arose with the rise of e-commerce deliveries. Porch pirates are people who steal packages left at the doors of others' homes. Since many Christmas shopping is done online these days, porch pirates have a glut of easy pickings to choose from in the days leading up to Christmas.
Stress & Alcohol
Violent altercations are a common sight during family get-togethers and parties. These social occasions are often highly stressful times for many people, as they are forced to spend time with individuals with whom they have issues. The stress, when combined with the consumption of alcohol and drugs, can lead to violent assaults or worse.
Crime Rates in Savannah, GA, During the Holidays
As a state with a humid subtropical climate, Georgia tends to have warmer Christmas than, say, New York or Connecticut. And this is also reflected in the state's ranking for December crime rates. On the list of the states with the most thefts or burglaries in the Holiday Season, Georgia ranks fourth, behind Washington, New Mexico, and Texas.
Somewhat surprisingly, the states with the fewest thefts in the same period are New York, Vermont, Mississippi, South Dakota, and New Hampshire. Back in Georgia, the Atlanta Police Department records show that the highest number of crimes and arrests usually happens in December (this has nothing to do with the recent ANTIFA attack on Atlanta).
The situation is not that different in Savannah, GA, as it is Georgia's fifth-largest city with a population of about 150,000 people. Holiday crimes tend to happen more often in urban areas than in rural communities. The Savannah metropolitan area is the third largest in the state, with a massive population of over 400,000.
Bio-One Savannah's expert decontamination and biohazard cleaning services are available all over the greater Savannah metropolitan area, including nearby counties like Bulloch County, Brantley County, Camden County, Liberty County, Chatham County, and surrounding communities.
If you urgently need discreet crime scene cleanup services from an experienced decontamination cleaning company in any of these locations, you can rely on us. Our crime scene cleanup and biohazard decontamination crews are active 24/7. To contact our biohazard cleaning team, give us a call at 912-755-1211, or use our service request form here.
What is Crime Scene Cleanup and Biohazard Decontamination?
Injuries and death are common at scenes of crime, particularly when the criminal is challenged by either the victim, passers-by, or law enforcement. This invariably results in blood splatters, body fluids, feces, and other forms of biological contamination.
The duty of the first responders – police, paramedics, and other investigators – does not involve cleanup and biohazard decontamination. After they take all the relevant samples and other evidence, they often cede control of the crime scene property back to its original owners.
Up until at least the 1990s, the unpleasant task of crime scene cleanup and suicide cleanup was left to the hapless owners. Very few professional cleaning companies were willing to take up a biohazard decontamination job.
Thankfully, the 1990s and early 2000s also saw the genesis of the crime scene clean-up industry – professional cleaners who take over the responsibilities of removing all biological and chemical contaminants from a crime scene or trauma scene, sparing the owners of further duress. They are rightfully called the last responders.
Also called crime and trauma scene decontamination, or CTS decon, companies like Bio-One Savannah provide a vital service within the wider cleaning industry. It is certainly not for the faint of heart or stomach – crime scene cleanup and biohazard deal with blood, decaying animal/human remains, and potentially toxic substances like chemicals in a meth lab, for example.
Apart from crime scenes, CTS decon companies also handle suicide cleanup, odor removal, blood spill cleanup, hoarding cleanup, homeless encampment cleanup, feces urine cleanup service, junk removal, meth lab toxic chemical decontamination, and biohazard decontamination needs.
The prime duty of a biohazard decontamination and cleanup team is to remove all contaminants and dangerous substances from a site and restore it back to its previous state, fit for normal human use and habitation. This complex task is called remediation, and it requires a comprehensive cleaning approach. This is something best left in the hands of biohazard crime scene cleaning experts.
Why You Should Choose Experienced Biohazard Decontamination Professionals for Crime Scene Cleanup
While it may have been the norm in the distant past, cleaning a crime scene on your own is never a good idea. Here are 5 compelling reasons why you need to call in the experts like Bio-One Savannah for your crime scene clean-up and remediation:
Biohazard Decontamination
All bodily fluids – blood, urine, and feces – are considered biological hazards by the federal government due to their ability to spread dangerous pathogens and diseases. Biohazard cleaning team professionals always wear full protective gear (PPE kits) when cleaning any contaminated site. If you want to avoid the risk of catching deadly diseases like HIV and hepatitis, leave the cleanup to the professionals!
Mental Stress
Witnessing a crime happens on your property is traumatic, especially if you or your family were among the victims of violence. It is often a life-changing situation for many. Being forced to clean up the mess will only add to the overall mental trauma – crime scenes are often extremely gruesome and gut-wrenching. The best thing you can do is to spare yourself the trauma and bring in the experienced pros for a discreet crime scene cleanup.
Deep Cleaning
Blood is notoriously hard to clean from surfaces. It can flow and pool up under your carpets, floorboards, and other surfaces. If there were any headshot wounds, the brain matter may end up as hardened deposits on your walls. All these can lead to foul odors if the site is not properly disinfectd. Only a decontamination and biohazard cleaning company can provide comprehensive remediation in such circumstances.
Legal Protocols
You cannot unilaterally decide to undertake the cleanup of a crime scene – they are often of acute interest to law enforcement agencies. You need explicit permission from the investigating officers to even start the process. Experienced cleaners know the protocol and can handle everything on your behalf.
Property Valuation
Visible signs of violence can severely depreciate the value of a property and often render it unsellable. Ideally, you want any trace of the crime scene to be wiped out to protect your real estate investment. A discreet crime scene cleanup is essential. And to do this legally, you need the assistance of a professional crime scene cleaning team who has had the proper training.
Call Our Trusted Team of Experts at Bio-One Crime Scene Cleanup Savannah
At Bio-One Savannah, we have the benefit of decades of professional cleaning experience among our teams to discreetly remediate impacted spaces. We offer a wide range of decontamination and biohazard cleaning services, including:
Crime scene biohazard cleanup service
Blood spill cleanup service
Homeless encampment cleanup service
Decomposition undiscovered death service
Feces urine cleanup service
Suicide cleanup services
Odor control
Vehicle decontamination, among others.
Bio-One Savannah is the premier name in crime scene cleanup and biohazard decontamination in Savannah, GA, and nearby counties. A proud, locally owned business, our biohazard decontamination professionals serving the local community have a stellar track record and high customer review ratings.
The Bio-One Team makes dependable and compassionate service a priority when dealing with all our clients. Our mission is simple – help first, business second. We are a trusted, experienced, and discreet decontamination cleaning company.
Along with years of experience and expertise in crime scene cleanups, we also offer our clients discretion, compassion, and comprehensive remediation. We deeply understand the impact a violent crime can have on the psyche – which is why we offer quick and efficient cleanup so that you can leave the incident in your past and move forward.
The Bio-One Savannah crime scene cleanup and biohazard services are available 24/7 – just give us a call at 912-755-1211 any time you have a crime scene cleanup or biohazard removal emergency. You can also contact us using the service request form available online on our website.
The holiday season is usually seen as a time of great joy and merriment. Christmas, in particular, is when folks try to get together with family and friends in festive spirits. Based on this, amidst all-around celebration and optimism, something somber and tragic is often linked to Christmas – suicides.
Many people believe that Christmas is a time when the risk of suicide reaches its peak. The correlation drawn between suicides and the holiday season is decades old. But is there any grain of truth in all this?
The bio-hazard cleaning experts at Bio-One Savannah are highly sensitive to the immense tragedy of suicide and other forms of unnatural death. In a time of intense grief, we offer top professional and compassionate cleaning services to the family or property owners after a suicide has occurred.
In this blog post, we will explore the facts behind the holiday suicide claims – is it real or just a myth? Let's start with some basic facts about suicide in the US:
Incidence of Suicides in the United States
Suicide is the 11th leading cause of death in the United States. In 2021 alone, there were close to 48,180 deaths by suicide – over 130 people were found dead. Almost twice as many people are killed by suicide than homicides across the US.
And that is just the tip of the iceberg. If we look at suicide attempts, there are only rough estimates. Considering the fact that not every attempt at self-inflicted harm results in a death or visit to the hospital ER, we may never know the true picture.
Nonetheless, reports and predictions from experts indicate that there are at least 1.2 million suicide attempts each year in the US. For every death by suicide, there are at least 25 unsuccessful attempts at taking own life. Each day across the country, a suicide attempt takes place once every 26 seconds on average.
Nationwide Historical Trends in Suicides
We have high-quality historical data about suicide attempts dating back at least to the 1950s. What we've seen over the decades paints a startling picture – after hitting a low in 2000, suicide rates have increased by as much as 30% in the last two decades.
Beginning with a high rate of 13.2 in the post-World War II era in 1950, the suicide rates saw a progressive decline to 10.4 per 100,000 people by the year 2000. Much of that positive change has been attributed to advances in mental health treatments and a steady improvement in economic conditions.
In relation to this, ever since the beginning of the 21st century, things have gone downhill in terms of cases of depression and suicide. By 2018, the suicide rates nationally had exceeded the 1950 levels to reach an all-time high of 14.2 per 100,000 population. There was a temporary dip in those figures during the early stages of the pandemic, reaching 13.48 in 2020.
Since then, the numbers have once again bounced back sharply, and suicide rates reached a new record of 16.1 suicides per 100,000 population. Suicide prevention has been rightfully termed as vital for public health and welfare.
Differences in Suicide Rates Among Various Groups
Suicide risk is not evenly distributed across the entire population. For instance, the rates are extremely low among young children below the age of 10. Moreover, based on demographic factors like race, gender, and age, suicide risks can vary to a great degree.
Men vs. Women
The difference in suicide rates here is quite staggering. Men are up to 3.5 times more likely to commit suicide than women in the United States. This gap has remained more or less constant since at least the 1950s.
Among men, the risk is higher as they age. The rate is around 28.3 between the ages 25-44 and 27.4 between 45-64. But the highest risk comes after the age of 75 for men – the suicide rate is a whopping 40.5 per 100,000 population.
Among women, the peak risk comes after the age of 45. The suicide rate for females is 7.2 between the ages 25-44, and it reaches a peak of 7.9 between ages 45-64. The risk falls off considerably after the age of 65 in women. In 2023, the age-adjusted suicide rate was 25 for men and 7.5 for women in the United States.
There are significant differences in the chosen suicide methods as well. Men prefer using a gun (57.9%), followed by suffocation (26.7%). Among women, the primary means of suicide are firearms (33%), suffocation (29%), and poisoning (28.6%).
Race and Ethnic Groups
In absolute numbers, the majority of suicides involve middle-aged white men. Going by percentage rate among the population, Native Americans had the highest rate of 37.4 per 100,000, followed by white males at 27 per 100,000.
African American, Asian, and Hispanic populations had the lowest rates of 12.9, 10.3, and 12.3, respectively, per 100,000. The rates for women are largely similar, with Native American and White populations showing higher rates of suicide than others.
Age Groups
The following are the broad rates per 100,000 for each age group, including both men and women at present:
For ages 10 – 14 the rate was 2.0 for women and 3.6 for men
For ages 15 – 24 the rate was 5.8 for women and 22.4 for men
For ages 25 – 44 the rate was 7.2 for women and 28.3 for men
For ages 45 – 64 the rate was 7.9 for women and 27.4 for men
For ages 65 – 74 the rate was 5.6 for women and 24.7 for men
For ages 75+ the rate was 3.9 for women and 40.5 for men
Teenagers tend to have lower suicide rates than adults, contrary to many news reports and popular perceptions. The rates are much higher for young adults and senior citizens. But the youth are nevertheless at risk of suicide attempts, with 8.9% reporting an attempt in 2019.
Suicide Across the World – How Does the US Compare?
According to WHO figures, the global death toll from suicide each year is around 700 million. It was also the fourth leading cause of death among adolescents/young adults between 15 and 29 years of age in 2019.
Over 77% of all suicides take place in lower-income countries, with pesticide ingestion a very popular option in countries where firearms are not readily available. The US does not rank among the top 25 nations in terms of age-adjusted suicide rates. Here are the top 5 nations:
Guyana - 44.2
North Korea – 38.5
South Korea – 28.9
Sri Lanka – 28.8
Lithuania – 28.2
The actual reasons for suicide are quite varied and complex. Mental disorders, stress (particularly due to a sudden onset of crisis), depression, and alcohol abuse, are all major factors. Financial issues, relationship crises, loss of a partner, father, or mother, and chronic pain or illness are all common stressors.
Discriminated minorities, such as indigenous people and members of the LGBTQ community, are at higher risk of death by suicide. Natural disasters, conflicts, and forms of violence can also push people toward suicide attempts.
Suicide Trends in Georgia
Suicide rates are not evenly distributed across different states in the country. Alaska and the Western and Northwestern states have higher rates, particularly in the rural areas. California is a notable exception, with generally lower rates.
As for the state of Georgia, it sits 31st on the table of states with the highest incidence of suicides in the United States. The age-adjusted rate in the state is higher than in other states in the South.
Suicide also ranks as the second leading cause of death among youth in Georgia. Savannah falls under Chatham County in Region 5, which reported the highest rate of suicides among teens in 2019, according to official figures from Atlanta police.
If you have faced the trauma of suicide on your property or family home in Savannah, GA, Bio-One Savannah is prepared to offer you quick, reliable, and compassionate service. Our team of certified experts is equipped with high-tech resources. We are available 24/7 to handle the cleaning and disinfection of all contaminated surfaces in accordance with both state and federal laws.
Be it the cleanup of homes, vehicles, or commercial property, our specialists are trained to address all conditions. We are dedicated to handling your unique needs with utmost care and caution under the latest OSHA guidelines for maximum safety. To request our suicide cleanup services, give us a call at 912-755-1211, or use the contact us form here
Christmas and Suicide Numbers – Myth or Reality?
The supposed link between Christmas and suicides is a myth that is not backed by any factual observations or real-world data. The fact is that the rate of suicides does not increase during the holidays. Let us look at some of the reasons to debunk the myth of higher suicide rates during the Christmas and holiday seasons.
The Holidays Act as a Buffer
Contrary to popular belief, the holidays do not make people feel more miserable and increase the chance of a suicide attempt. In reality, the opposite is true – all the positivity and merriment act as a buffer against depression and suicidal thoughts in many individuals.
As long as they are not isolated and cooped up in their rooms, they can attend social events. partying and dancing during Christmas and other winter holidays keep people distracted from their suicidal impulses. Social gatherings provide excellent support against suicidality.
Suicides are More Common in Spring and Summer
Taking your own life is not an easy task. It takes a lot of energy (both mental and physical) to successfully carry out the act. This is why most suicides happen in the warmer months and not in winter.
In regions with cold and darker winters, the human body has less energy to spare. We end up more lethargic in order to conserve body heat. The same phenomenon is also responsible for significantly reducing the rate of suicides during the holiday season.
Suicidal Impulse is Often Driven by Internal Factors
The urge to end your life is a highly complex feeling which is usually driven by a wide range of psychological factors. Mental illness, depression, anxiety, and stress can all play a part. A unique set of factors drives each individual.
While it may sound convenient to attribute many suicides to a single universal cause, that would be a gross oversimplification of things. Sure, people do end up feeling suicidal around this time – but it is often rooted in very negative personal experiences from the past, not just a general aversion to the holiday season.
But in other instances, it can also be inspired by external stimuli – when a person sees news of suicides involving an actress or other celebrities, it can trigger impulses that lead to "copycat suicides." This is a reason why we have journalistic rules and standards when covering suicides in the media - for the sake of suicide prevention.
The Origins of the Christmas Suicides Myth
Nobody knows for sure when the myth of high suicide rates at Christmas first started. Some experts attribute at least part of the blame to movies like "It's a Wonderful Life," where the lead character contemplates suicide during the holidays.
Seasonal Affective Disorder is commonly cited as another reason to back the claim. A form of depression triggered by changes in the season can happen at any time of the year, not just during winter. The condition is also linked to bipolar disorder, which also increases the risk of suicide.
Journalists and news media have also played a key role in at least perpetuating the myth, if not actually creating it. Despite the availability of data that debunks the claim, many journalists fail to do due diligence before publishing articles on the trend.
What is the "January Rebound"?
While we can say with confidence that Christmas suicides are indeed a myth, there is another aspect to it worth considering. Christmas and social interaction can act as a buffer against suicidal urges during December.
But once we pass the holiday season and enter January, those same suppressed urges and depressive traits can often come back with a vengeance. Over the decades, researchers have noticed a decline in suicides in December, followed by an uptick in rates during January, a phenomenon called the "January rebound."
Help First, Business Second – The Bio-One Savannah Approach
Suicides can be incredibly traumatic situations, whether it happens in your family or if it involves a complete stranger found inside your vehicle or on your property. Depending on the method used, a suicide can leave significant biological contamination in and around the surroundings.
Suicide scene clean-up is not something anyone can or should do as a DIY project. For community health and safety reasons, there are strict laws at both the state and federal levels on the handling and disposal of human remains and bio-waste.
If you are based in Savannah, GA, or nearby areas, you can rely on Bio-One Savannah for fast, compassionate, and discreet cleanup services. Our industry-leading experts are fully certified, trained, and experienced in handling and disposing of biological contaminants resulting from suicide.
If you wish to request Savannah suicide cleanup services at any time of the day, Bio-One is here to help you round the clock on all days of the week. Give us a call at 912-755-1211, or book an appointment online today using this link.
Losing a pet can be a highly traumatic event for most of us. Whether it is a household dog, cat, bird, or something more exotic, we treat them as a part of the family. Although the circumstances can vary wildly, there is a high risk of biological contamination in the aftermath of animal deaths.
Dealing with the fresh blood, urine, feces, and other bodily fluids left behind by an animal recently passed is an unpleasant task. But there is something even more distressing and potentially dangerous – chancing upon a dead and decomposing animal on your property.
In situations of animal decomposition, it is almost always a good idea to call in professionals. This article will explain everything you need to know about animal death and decay, its risks, the science behind decomposition, and above all when to seek professional help.
To deal with all your animal decomposition concerns, call Bio-One Savannah without delay!
What is Animal Decomposition?
Decomposition is a natural part of the life cycle – all things born must die, and when they die, their bodies decompose and convert into nutrients for other life forms. We think about it as nature's way of recycling dead things.
The body of humans and animals are made up of highly complex compounds – proteins, amino acids, fats, carbohydrates, DNA, and other minerals and water. Decomposition is the process by which these are broken down into simpler molecules of sugars, mineral salts, carbon, and water.
These simpler nutrients become food for bacteria, fungi, flies, maggots, and other life forms. Eventually, the nutrients are absorbed into the surrounding earth and nourish plants and trees.
When Does Animal Decomposition Become a Hazard?
The decomposition and decay of organic matter play an essential role in nature. It prevents the wastage of nutrients and ensures that plants can thrive, creating food for the continuation of life. Out in the wild and wide-open spaces with plenty of air circulation, a decomposing animal body does not cause any significant concerns.
Problems arise when animals die inside your homes. Wild animals like rats, raccoons, and squirrels often find their way into attics, ceilings, ducts, chimneys, between the walls, and even under the house.
Pets like dogs and cats also have the instinct to seek out nooks and crawl spaces, mainly when they are not well. This is a primitive instinct of self-preservation – all animals, domesticated or otherwise, will retreat to a safe hiding place when severely ill or injured.
Out in the wild, this is a valuable tactic to avoid predators who always target weak and easy prey. But in our homes, this instinct can lead to unpleasant situations where a beloved pet (or a wild animal) dies without our knowledge.
And while the body may be out of sight, thanks to rapid decomposition, you will soon know all about its presence. The following are signs of a possible rotting body inside your home or property:
A vile odor permeated the building.
A vile odor is wafting around the premises.
Presence of swarms of flies and ants.
Stains of unknown origin on a wall or ceiling.
The odor of a decomposing body is deeply unsettling as we immediately associate it with death. Living under the same roof with such a smell is virtually impossible. While the odors dissipate faster out in the open, they can linger for a long time indoors and saturate everything inside.
Health Risks from Decomposing Animal Carcasses
Apart from the revulsion factor automatically associated with dead bodies, animal carcasses can pose health risks to humans and other animals. Exposure to a carcass during improper handling can increase your risk of getting sick thanks to these factors:
Bacteria and viruses
Many wild animals harbor potentially deadly microbes that can cause infection in humans and other animals. Salmonellosis, leptospirosis, infections caused by Campylobacter, and Clostridium perfringens are examples.
You may catch these diseases by inhaling dust particles or touching the carcass without proper protection in gloves, face masks, and other clothing. Some diseases can also spread if the carcass contaminates your groundwater or indoor plumbing.
Ticks and fleas
While most pets are given medication and treatment to prevent ticks and fleas, wild animals don't have such luxury. Their bodies are often ridden with these blood-sucking parasites, which are known to carry Lyme disease, babesiosis, Rocky Mountain Spotted Fever, and Tularemia.
When the animal host dies, the ticks and fleas immediately leave the body, searching for new victims. Removing the carcass alone is not enough in these situations. You may also have to perform deep cleaning and fumigation of the area.
Common Causes of Animal Decomposition in Georgia Homes
There are two main sources of rotting smells and animal decomposition inside homes – wild animals and pets. Both wild and domesticated animals love going into enclosed spaces that resemble burrows, and our homes have plenty of locations where animals can hide:
Under the house
This is a popular hiding location for pets, especially cats and dogs. If they are sick but still able to move around, your pet may prefer the solitude and comfort of the crawl space underneath your house.
Since it is easily accessible, many wild animals like raccoons and possums may also take refuge in this part of your property. Since crawl spaces can accommodate these larger animals, when something dies in there, the stench will also be quite severe.
To remove the carcass and clean the affected area properly, you will have to crawl under the house. In regular clothes and with no adequate protection, this is a recipe for contracting an illness or infection. Bio-One Savannah decontamination experts can save you trouble. Give us a call now!
In the attic
Due to its warmth and elevated position, the attic is a popular spot for many feral and wild animals to build a nest. Since humans don't venture there often, these animals settle in for the long haul, often dying there in the process.
Unlike the underside of the house, the attic has more direct ventilation access to the rest of your home. Any stench from an animal corpse will spread more intensely inside your house. As a result, it is often relatively easier to spot carcasses in the attic. But they remain quite hard to clean.
Inside walls
Rats and other small rodents often frequent the smaller gaps and spaces between drywall panels. They are the usual suspects whenever you notice any off-smell coming from a particular wall, possibly accompanied by weird stains close to the floor.
This happens when the animal dies and falls to the bottom of the walls, close to the baseboards. Sometimes, these critters can die and get stuck on nearby support beams. Removal of the carcass entails cutting a hole in a nearby wall section.
Inside Ducts and Chimneys
Given the hostile nature of these spaces (smell of fire, moving air), animals don't usually favor moving into such spaces. Sometimes, a small pet like a rat or guinea pig (or even a snake) may end up in smaller spaces and die.
Handling and removing such bodies can be a veritable headache since there are many hard-to-get areas in AC vents and ducts or even between the flues of a fireplace. You are better off calling experienced professionals from Bio-One Savannah for these jobs.
The Science Behind Decomposition
While it is often a gruesome and revolting sight, decomposition's science is fascinating. It's a complex process involving microbial activity, organic substances, and chemical decomposition.
All living organisms undergo various forms of decomposition after death. Many organisms play an active role in this process. The decomposer organisms that feed on other dead organisms are collectively called detritivores. In general, they are either microscopic or have a very unpleasant appearance.
Detritivores slowly and steadily decompose organic matter over weeks, months, and years. They tirelessly eat away the decomposing organic materials of dead plants and animals. Due to this, there are significant differences in plants and animals' decaying organic matter.
Decomposition in Plants
Fungi play a lead role in decomposing dead material on the forest floor. Once hectares of forests produce anywhere from 1 to 3 tons of dead plant material for fungi to feed on. The material processed by fungi provides food for other organisms like snails, earthworms, and springtails.
While some fungi are toxic, they play a vital ecological function. They fertilize the surrounding soil by converting plant materials like dead leaves, dead tree bark, and other organic material. Along with soil microbes, fungi create the ideal situation for new growth.
Decomposition in Animals
Unlike in dead plants, the dominant role here is played almost exclusively by bacteria, along with other multi-cellular scavengers like maggots and worms, insects and beetles, flies, and even larger beasts like foxes, jackals, crows, and vultures.
Animal scavengers consume the dead carcass materials and release gases and absorb energy. Many microbes and other invertebrates participate in this "feast," including jackals, vultures, foxes, crows, etc. But these do not attack the cadaver simultaneously. Instead, they follow a multi-staged process.
The 5 Stages of Decomposition
Even when alive, animals (including humans) are home to millions of microorganisms. Bacteria living in the gut aid in the digestion process. The bacteria remain relatively passive and benign as long as the host organism is alive. Once death occurs, that status quo is ruptured, and decomposition sets in across the following stages:
Initial Decay (Day 0 - 3)
Immediately after death, the gut bacteria began attacking the surrounding intestines' dead tissue. The digestive enzymes produced by the animal's intestines also start contributing to the process of decomposition.
Meanwhile, house flies and other species of flies start laying eggs outside the carcass. They usually prefer laying eggs around wounds and other openings in the body – mouth, eyes, nose, ears, and genitals.
The larvae of flies hatch from these eggs within 24-48 hours. They quickly move inside the body to start feeding on the dead tissues.
Putrefaction (Day 4 - 10)
As bacteria inside the carcass continue to break down the cells and tissues, fluids and gases start accumulating in open spaces inside the body. Some gases include carbon dioxide, methane, and hydrogen sulfide – foul-smelling to humans but attractive to flies and other scavengers.
When large quantities of carbon dioxide and methane are released by multiplying bacteria, it inflates the body. It creates additional pressure inside, forcing more fluids out of the tissues into the body cavities. The larvae of flies develop into maggots and move around as a substantial writhing mass.
As the maggots eat and digest the organic matter, they also spread bacteria to different parts of the carcass. The stench from the body also increases drastically, attracting more flies, insects, and maggots.
Black Putrefaction (Day 10 - 20)
The gases escape from the cavities at this stage, causing the bloated body to deflate and collapse. Along with the gases, lots of fluids drain into the nearby areas. If the carcass is indoors, this can lead to heavy staining and seepage. The stench will remain quite severe at this stage.
The maggots also start growing into pupae and leave the carcass. Other insects, like scavenger beetles and wasps, gradually replace the flies. The body's exposed regions acquire a black color, while the tissue inside becomes creamy and white.
Butyric Fermentation (Day 20 - 50)
By this stage, the flesh is either removed or dries out and starts fermenting. High levels of butyric acid give the carcass a cheesy smell that attracts new organisms and mold. At this dry stage, the carcass is more suitable for feeding beetles and their larvae.
Dry Decay (Day 50 - 365)
The decomposition rates gradually slow as all flesh and other organic matter disappear from the body, leaving just the bones. The main organisms active at this stage are bacteria, mites, and moths (if the animal has fur).
The Role of Temperature
The rate of decomposition and decay will depend heavily on the ambient temperatures. The decomposition rate will be very high in hot summers as bacteria thrive in hot and humid conditions.
Meanwhile, in winter, the decomposition rate will progress significantly slower. Due to climate change, global warming, and the constant flux of the earth's temperature, which has been changing since time immemorial, we are starting to see heat waves and longer summers that lead to quick putrefaction and the decay of dead animals.
This also has a feedback effect - as more animal remains and plant litter get broken down by the decomposition process, it will release additional greenhouse gases like carbon dioxide and methane into the atmosphere.
Choose Bio-One Savannah for Compassionate and Professional Dead Animal Removal and Decomposition Service
Advanced decomposition of animal tissue creates a hazardous environment in closed spaces like the inside of your homes. It can release toxic gases, disease-causing germs, and other unpleasant substances into your surroundings.
Cleaning this mess is a job best left to seasoned professionals. Here at Bio-One Savannah, we use advanced equipment and specialized cleaning agents to remove all traces of the dead animal with clinical efficiency.
All our practices are in full compliance with the strictest regulations regarding the handling of bio-hazardous materials. You are guaranteed the highest quality animal carcass cleanup service with us in Savannah, GA.
We always prioritize the physical and emotional well-being of our clients. Losing a pet can be a very emotionally sensitive moment for a family. Our trained staff maintains the utmost respect and provides a compassionate cleanup service experience.
For a professional, discreet, and compassionate dead animal removal and decontamination service in Savannah, GA, give us a call today!
Pets help bring joy and laughter into our homes. They provide us with love and companionship when we need it the most in life. Studies show that humans enjoy a wide range of physical and mental health benefits from owning a pet, including lower blood pressure and stress levels.
Unfortunately, very few animals have the same lifespan as humans. The animals that do, like elephants, do not make for practical pets! Most of us will outlive several pets during our lifetimes. And parting with a beloved pet dog or cat is a terrible experience in life.
Some pets get a humane death through euthanasia at the vet's office. But many others die at home and often leave a mess that can be hard to handle. If you have lost a pet under distressing circumstances and need help cleaning the pet's waste, we are here.
BioOne Savannah combines professional excellence with a compassionate and humane approach to provide fast, efficient, and discreet animal clean-ups – give us a call today for a free quote.
What is a Pet Clean-up?
Pet clean-up is a relatively broad and generic term that can include many services. For instance, some businesses offer dedicated cleaning services for removing dog poop – also called a pooper scooper service. Under contract with owners, breeders, or residential organizations, pooper scoopers will come and clean yards, streets, and other public spaces regularly.
Some firms provide clean-up services when pets, smaller wild animals, or farm animals like cows and horses die on your property. Private firms and municipal agencies can be asked to come and pick up and dispose of the dead bodies. They do not generally provide advanced cleaning services.
For that, you can rely on services from companies like Bio-One Savannah. We provide specialized cleaning and bio-waste disposal services to homeowners and business establishments. If a pet animal/wild animal has died on your premises under any unfortunate circumstances, we are the ones you need to call.
Why Do Pet Parents Require Professional Clean-up Services?
The death of a pet at home brings a unique set of challenges to pet owners. Animals are more likely to leave a lot of waste and biological residues in their surroundings when they die. This can include blood, saliva, waste matter, and other bodily fluids. Engaging the services of a professional cleaning company will give you the following benefits:
Avoid a Traumatic Experience
It's normal to feel distraught and depressed after the death of a beloved pet who has been a loyal companion for years. Removing pet waste and cleaning up the mess left behind by that pet will only add to the trauma.
This is needless additional pain that you don't have to carry. When you hire Bio-One for your pet cleanup, our trained professionals will handle every aspect of cleaning and disinfecting the affected areas in your home. Our compassionate approach allows you to grieve your loss and come to terms with it at your own pace.
Thorough and Efficient Cleanup
Kidney failure, cancers, and Lyme disease are among the most common causes of death in pets most common causes of death. In their advanced stages, these conditions can affect a pet's ability to control when and where they empty their bowels and bladders.
Naturally, this can build up waste materials and their traces in your home. Bio-One cleaning specialists are equipped to thoroughly clean up all the affected rooms and areas in your home. We remove all traces of pet waste, so you get back relatively return to your clean and healthy home.
Remove Stains and Toxins
Sick and dying animals often mess up your home's carpets, furniture, and other expensive fixtures. Apart from unsightly stains and bad odors, pet waste on these surfaces may also carry deadly germs and toxins that can affect your kids and any surviving pets.
You need specialized chemicals with advanced cleaning and deodorizing properties to effectively tackle the mess left by animal secretions and body fluids on your carpet and other surfaces. Bio-One specialists can help you avoid throwing away your carpets and give them a new lease on life.
Deal With Decomposing Animals
Wild/feral animals often die in hidden nooks of your home, like the attic or crawlspace. It is not unusual for sick or injured dogs and cats to follow the same instinct when they feel they are close to death. In such situations, pet parents often assume their pets are missing or lost.
You only recognize the reality when the dead body starts to decompose and give off foul odors. Experts best handle this unpleasant situation with the equipment and training to handle the putrescent and decomposing biological waste.
Decontaminate Your Yard and Premises
Bacterial infections like salmonellosis, psittacosis, and Lyme disease are prevalent among dogs, cats, and other domestic animals across the United States. There is also the risk posed by parasites such as hookworms and roundworms. As they age, dogs, cats, rabbits, and other animals become vulnerable to infections.
Humans can catch many of these zoonotic diseases from their pets. Suppose any of these illnesses contributed to the demise of your pet. In that case, you should hire a professional, medical-grade cleaning service to decontaminate all exposed areas, indoors and outdoor areas like patios/yards.
Deal with Hoarding Situation
Hoarding is a mental disorder where people have difficulty discarding items and end up with an often unsanitary living condition with piles of waste. In animal hoarding, the person may have more pets than they can handle.
Such homes often have improperly disposed of animal remains. Suppose any of your relatives suffer from this. In that case, you will need to call in experts who can handle the removal of animal waste and any contaminating substances and make the premises liveable again.
What is "Pet Waste"?
Pet waste, also called animal waste if the source is a wild/feral animal, can include many things. From a professional cleaning perspective, pet waste or animal waste includes the following:
The Remains
In the event of a pet death, owners are required to dispose of the body in a manner that does not affect public health and sanitation in any negative way. Backyard burial is never a decent option for a variety of reasons. It's also not practical in the case of larger pets like dogs.
At most locations, local community/municipal sanitation services will pick up animals that end up dead on the streets and public areas. A humane and compassionate pet waste removal and cleaning service like Bio-One is the best option for pets that die at home.
Due to special circumstances, you may discover your pets remains several days after death. This can happen if the pet goes missing and ends up inside your walls, chimneys, or attic. When decomposed remains are involved, professional bio-waste handling services are recommended.
They are also highly recommended if you deal with wild animal carcasses on your property. Unlike domestic animals, wild animals are not vaccinated and often carry deadly diseases like rabies. You should never touch or handle the dead bodies of such animals.
Blood and Stains
Bleeding or blood in vomit/feces is a common side effect in advanced and terminal-stage diseases like cancers. Your floor, furniture, clothes, and carpets may be covered with residual blood or stains.
A dog or cat can also die due to unfortunate accidents and physical injury that causes heavy bleeding. If splatters or pools of blood are on your premises, it can be deeply unsettling for family members, especially young children.
Bleeding is also very common if your pet succumbed to injuries sustained in an attack by another pet dog or a wild/feral animal like a coyote. Cats are often at risk of such attacks since they roam around the neighborhood.
Pee, Poop, and Other Bodily Fluids
Waste materials like pee and poop are far more common than blood stains in cases of pet death. Most pets die at home due to old-age-related illnesses or infectious diseases. Aged animals usually suffer from a lack of bladder and bowel control.
Sickness can also increase the severity of this condition. As a result, you may have to frequently clean up such animal waste during the treatment period. Despite your best efforts, there is a chance of persistent orders and stains inside the home when there is a sick pet.
After they have passed away, you deserve a clean and healthy home devoid of off-smells stains and residues in corners, grooves, and other surfaces. This can only be achieved with the help of professional decontamination and cleaning services like Bio-One Savannah.
Pet Hair/Fur
Numerous breeds of cats and dogs have long/medium-length coats and luxurious furs. Some other pets, like rabbits, also have fur that can get everywhere. Most pet parents can handle the shedding fur with normal cleaning processes.
While most healthy animals shed on a seasonal basis, abnormal shedding often happens when they get old or sick. This is why the rooms and surfaces frequented by a recently dead pet often have vast amounts of hair/fur.
Further, you cannot discount the risk of fleas and ticks. While healthy pets respond positively to parasite control measures, many of these cannot be applied to severely ill animals. So in the final stages of their lives, some pets may harbor ticks or fleas, which can spread disease to humans.
Due to the risk of infection, your best bet is to leave the removal of any fur and hair in the hands of professionals after the death of your beloved pet. Bio-One experts will remove all traces of fur and hairs since they are potent allergens and may carry pathogens/parasites from the dead animal.
Odors
While physical waste materials are easier to collect and remove, that does not guarantee that your house is in clean and livable condition. Due to ventilation challenges, foul odors from pee, poop, and dead organic materials can linger for a long time.
In extreme cases, where an animal dies unknown to you in the attic or under the floorboards, the stench from the rotting body can make the house virtually unlivable. You need industrial or medical-grade deodorizing techniques and chemicals to remove the smells safely.
How Does the Cleanup Process Work
Here at Bio-One, we follow a highly scientific procedure in our clean-up efforts. Animal cleanup situations can vary widely. Our experts assess the unique variables involved – the species and size of the dead pet, location of the remains, presence of fecal matter, possible presence of blood/fluids, the stage of decomposition, and more – before executing a customized cleaning process for best results.
That said, after the initial assessment, the basic process of removing pet waste has the following steps:
Removal of the Body
As the primary source of the odors and infection risk, we prioritize removing and securing the pet body for safe disposal. Our experts wear protective gloves, masks, and OSHA-mandated bio-security gear before touching and handling the remains.
The job is much easier when the owner calls us promptly after the death has occurred. This is vital since putrefaction and decay can start within a few hours, particularly in the hot, humid, sub-tropical Georgian climate.
Suppose the body is in an advanced stage of decomposition or hidden behind a wall or ceiling. In that case, we will first pinpoint the location and try to gain access by reasonable means while causing minimal property damage. The remains are then sealed in bio-hazard bags and taken for incineration.
Removal of Fur and Debris
If the animal belonged to a long-haired breed, our professionals would use powerful vacuum cleaners and other specialized equipment to capture and remove pet hair/fur, debris, and associated pet waste sticking to the floor, walls, and any other surfaces inside your home, including furniture.
Removal of Urine, Feces, and Blood
Cleaning of such bodily fluids and blood requires specialized training and equipment. Our certified experts identify the locations that need thorough cleaning and start by removing all visible traces of a pet's waster. Using modern techniques, we look for hidden blood and bodily fluid hints on carpet/furniture/tiles.
All affected surfaces are treated with hydrogen peroxide and other chemical formulations designed to break down organic matter, kill germs, and render a space safe and disinfected. We take special care when treating your valuable furniture and carpets to prevent severe damage during this process.
Stain and Odor Removal
The final step is to remove any visible odor traces of the pet's death from your home. Stains are usually removed during the spot-cleaning process, where we remove all the pet waste. Persistent stains may require special treatment.
The first step in odor control is removing the source from the premises. This, followed by thoroughly cleaning all affected surfaces, will reduce the intensity of the smells in the air. But to eliminate the smell, we apply a safe deodorant agent across all surfaces.
Call Bio-One Savannah for an Efficient Pet Waste Removal Service
At the end of our cleaning and pet removal process, you will get a clean, spotless, stainless, and odorless space that is safe for your entire family, including kids and infants.
With our high-quality pet waste removal service, you can move on with your grieving process for the departed pet without getting bogged down with the mundane but essential aspects of cleaning and odor removal.
For a professional pet cleanup and pet waste removal service rooted in compassion and humane behavior, you can rely on our experts at Bio-One Savannah. If you have suffered the death of a beloved pet in the family, call us today for a free quote or schedule a visit.
A blood spill in a crime scene can pose a health hazard to anyone who encounters it. Even carrying traces of it in your shoe or a vehicle's tires can spread disease wherever you go. Blood-borne pathogens and viruses like HIV, hepatitis, and many others could infect unsuspecting victims from exposure to the blood spill. A biohazard such as this should be contained and decontaminated quickly and safely.
Any biohazard should be addressed by certified technicians that follow federal and state regulations to the letter.
Choosing the Right Blood Spill Cleanup Company in Savannah, GA
Choosing a crime scene service is not a decision that should be made lightly. Unfortunately, there have been several instances where unethical cleaning companies have taken advantage of their clients in the past. The news has covered this on several occasions and because of these cases, the government has brought up the issue of whether crime scene cleanup companies should be heavily regulated.
Anyone can pay a company to make a website and call themselves a crime scene cleanup company to then proceed to take advantage of victims. To make matters worse, these victims are likely dealing with the death of a loved one or from a violent crime that left blood and other biomatter in their place of work or home.
So how can you find a blood spill cleanup company in Savannah, GA that will do an amazing job? Moreover, how do you find one that has a team of compassionate and friendly technicians who are certified and trained appropriately?
Research the Company
The only thing that will give you certainty that your chosen company is the right one is doing the research.
Look at their reviews, see what their reputation is like, see how long they have been in business and whether there has ever been a complaint against them.
Some good questions to ask when researching a company include:
Have they won any awards in the industry?
Are they certified and licensed and are properly trained?
Do they take insurance?
These are just some of the questions you should ask before committing to hiring the company. Try to find a company whose staff is friendly and compassionate but also professional. If you need a headstart, look into Bio-One of Savannah.
Contact Bio-One, The Premier Blood Spill Cleanup Company in Savannah, GA
Bio-One of Savannah houses a team of experts that are available 24/7, everyday of the year. We boast client approval and years of experience providing excellent and fast blood spill cleanup services in Georgia. We can restore the scene to how it was before the incident took place.
For blood spill cleanup in Savannah, Georgia, call: (912)755.1211 or visit us at www.BioOne-Savannah.com.
If, at any point, a vehicle becomes contaminated by biohazard material, it should be decontaminated by professionals. Failure to do so can result in the spread of viruses and disease.
Usually, most cars will not need this type of clean-up service, but some specialized emergency vehicles routinely encounter biological agents that can pose a serious threat to health. Below is a list of some of the vehicles we typically encounter as an emergency vehicle decontamination company in Georgia
1. Law Enforcement Vehicles
Law enforcement vehicles tend to encounter all manner of situations and individuals. Such individuals can often be of a violent disposition and when physical conflict takes place, blood and other bodily fluids will sometimes find their way to the scene. All you need is a small sample for a pathogen or a virus in someone's blood to infect other people.
Not all traces of biomaterial are going to jump out at you as a puddle of blood. All it takes is someone to get a scrape from tugging at their handcuffs to leave dangerous material behind that can potentially harm many other people. Law enforcement agents already risk their lives enough, which is why we make it our job is to eliminate the risk posed by contamination in their vehicles.
2. Fire Trucks
Fire trucks are not only used to fight fires. Firefighters are also called to the scene of an accident as first responders.
When encountering people who have just been in a car crash where blood and other bodily fluids are contaminating the scene, firefighters are likely to meet these fluids and, as such, contaminate their vehicles as well. They may decide to use the firetruck as an ambulance, further contaminating the vehicle.
When such a scenario occurs, a simple spray and a wipedown is not enough. Emergency vehicle decontamination in Georgia will be required to ensure the vehicle is once again safe to use.
3. Ambulances And Paramedic Vehicles
As everyone knows, paramedics are usually the first people they call into an accident. Whenever there is a victim of a violent crime, and an ill person cannot make it to the hospital by themselves, they call the paramedics. It follows that the vehicle they use is constantly under threat from all manner of biological agents including body fluids and human tissue that has been exposed to the elements.
A contaminated vehicle is a dangerous vehicle. You'll have potentially lethal pathogens or viruses like COVID-19 coming into the vehicle while people with weakened health are being transported in that space.
If the vehicle operators do not properly disinfect and decontaminate the ambulance to rid it of any biohazards, they will end up doing more harm than good. Thankfully, there are expert services that offer emergency vehicle decontamination in Georgia.
Call Bio-One of Savannah For Any Emergency Vehicle Decontamination You Need
Decontaminating vehicles is not a do-it-yourself project. The right protective gear must be employed while the appropriate chemicals and procedures must be observed to safely and successfully decontaminate a vehicle. If you need the best in the business, give us a call at Call (912)755.1211 or visit us at www.bioone-savannah.com/
Mold is a dangerous health hazard that might be growing in your home or place of work without you realizing it. Among the more toxic types is black mold. 
A whole range of health issues can arise from mold and by knowing the signs, you can keep you and your occupants safe.
If you want to be sure whether you have Black mold growing in your home, the only sure way to know is to call a Mold Removal Savannah Company, like Bio-One of Savannah, to check properly hard-to-reach areas where mold commonly grows. These areas include crawlspaces and basements. Kitchens and bathrooms are often susceptible as well. But in order to know for sure that you have black mold, be aware of these three signs:
1. The Nose Knows
You keep running into a strong, musty smell. This odor usually means there are spores in the air and what you are smelling could be the mold reproducing or breaking down biomatter.
When you smell such an aroma, the next step should be to look around for the mold. If you cannot see the mold right away, it may be hiding under wallpaper or in the walls. Sometimes people will get used to the smell and no longer realize it is there, so make sure you have a friend come over and see if they smell it too.
2. Seeing Mold or Even Water Damage
You may not see the mold growing on the ceiling but instead see minimal water damage. This water may be leading to growth on the other side of that ceiling since mold needs moisture to grow. If you see mold growing on any surface, you should contact a mold removal Savannah company. The first places to look should be where there is water. Such places will include bathrooms, kitchens, and even air conditioning vents.
Just about any place where water condenses will need to be assessed.
3. Unexplained Health Issues
If you develop respiratory problems that you cannot explain and/or are experiencing an irritated nose or eyes, it could possibly be because of mold.
Generally, if your health is affected and you suspect it may be due to mold, you should contact a mold removal Savannah expert. They're not just trained to remove mold, but also spot it as well.
4. Mental Health Problems
Believe it or not, black mold has been reported to affect not only the physical but also the mental processes.
Some people experience fatigue, memory problems, anxiety, and even problems with concentration. If you have any suspicion that black mold is growing in your home or place of work, do not risk your mental health. Contact a mold removal Savannah specialist today.
Call Bio-One of Savannah Right Now
We take mold removal very seriously. When you hire us for our mold removal Savannah services, our highly trained technicians will have your mold situation under control in no time. We use state-of-the-art safety equipment and will correctly block off any infected area as we proceed to eradicate the mold. We are available 24/7, everyday of the year. Call us at 912.755.1211 or take a visit to our website: www.bioone-savannah.com/.
Hoarding can be very dangerous and causes both health and property damage. Which is why we always aim to provide only the best hoarding cleanup Savannah, Georgia services.
Most times, the hoarder is not aware that their conduct is problematic and usually ends up suffering because of it. Hoarders tend to become socially isolated and generally require help to overcome this condition. When the time comes to take the first steps, the best thing to do is contact a hoarding cleanup company with a compassionate and friendly staff and with technicians that genuinely want to help.
The following are some of the 5 Danger Signs that indicate hoarding:
1. Clutter is Blocking Doors or Windows
Blocked windows and doors are a fire hazard. Such blockage can disallow anyone from reaching the exit or entrance points, making it harder to escape a fire.
2. Pathways Are Cluttered and Blocked
If the pathways around the house are so cluttered that they are effectively blocked, you may be facing a hoarding issue. Any first responder would have a very difficult time reaching the person in case of an emergency.
3. Mounts of Clutter are Unstable
When the hoarding reaches certain levels, mounts of clutter can become a real danger. All it takes is a stack of clutter to become unstable and fall on the occupant to have an emergency on your hands and first responders would be unable to reach the victim. For this reason, if you recognize clutter being an issue on the property, don't hesitate at all in contacting a qualified hoarding cleanup Savannah, GA specialist.
4. Structural Integrity Beginning to Fail
Sometimes hoarding can get to the point where the sheer weight of the possessions can be enough to cause structural integrity problems to the hoarder's home. An overburdened structure is very problematic because shifting that weight around during cleanup can lead to disaster unless carefully and professionally done.
5. Rodents, Feces, and Garbage
When you can see garbage of any type, feces from either rodents or insects, you have a clear sign of danger. Living in a space like that can lead to many health complications ranging from respiratory problems to cardiac issues that could prove fatal.
These are just some of the danger signs that hoarding cleanup companies like Bio-One of Savannah face regularly. Any of these problems can become critical, resulting in calamity. If you or someone you care about is showing any of these signs in their apartment or home, it is time to call a hoarding cleanup Savannah, GA company and get the problem under control.
Bio-One of Savannah Can Help Your Hoarding Situation
Bio-One of Savannah is the premier crime scene and biohazard cleaners devoted to helping law enforcement, public service agencies, and property owners/managers in restoring contaminated property. We take great care to use the most advanced protection to avoid any health hazard.
To clean up any hoarding situation, call us any day of the week, day or night, at 912-755-1211. Visit our website, www.bioone-savannah.com/, to learn more.