Biohazard may sound like an intriguing word to the average consumer. It is something we are accustomed to seeing in spy thrillers and zombie movies. With that said, hazardous biological materials don't just mean viruses bred in high-tech labs – they can even be something as mundane as animal waste or human bodily fluids.
When tragedy strikes in the form of murder, suicide, or accidental animal deaths on our property, it raises the risk of our exposure to dangerous viruses and bacteria that causes diseases like HIV Aids, Hepatitis, and MRSA infection. If your home or business properties in Savannah, GA have been caught up in any kind of traumatic accident or incident, you will need the services of Bio-One cleanup and biohazard decontamination services.
In this guide, we will look at the wide range of Bio-One cleaning services and explain the myriad biohazard decontamination situation in which you may require expert decontamination and biohazard cleaning.
Bio-One Savannah: A Highly Rated Biohazard Cleaning Team You Can Trust
Bio-One is a leading name in the highly specialized industry of crime scene clean-up and biohazard decontamination in the country. A pioneer in this nascent field, Bio-One has franchises in over 41 states, spread across over 100 locations, including Savannah and nearby counties in Georgia.
Crime scene clean-up is a relatively young sub-sector in the wider professional cleaning and janitorial services industry. In the United States, there are roughly 20,000 homicides, over 45,000 suicides, and 2.55 million instances of violent crime each year (2020 figures).
Many of these incidents lead to the creation of crime scenes filled with blood, feces, and other bodily fluids. In the past, property owners had no other recourse when it came to cleaning the premises after the conclusion of law-enforcement procedures.
There was no specialized business offering dedicated to cleaning up biologically hazardous materials from crime scenes. This resulted in unnecessary stress and trauma for many, particularly when families had to handle the horror of cleaning up after a violent death or suicide.
Bio-One was the first decontamination and bioone cleaning company to provide a viable and practical alternative. Our specially trained biohazard decontamination professionals serve both residential and commercial customers as last responders, providing comprehensive remediation in odor removal, blood spill cleanup, homeless encampment cleanup, suicide cleanup, and other services. With Bio-One Savannah decontamination and biohazard cleaning services, you get the following assurances:
Trained and Well-Equipped Professionals
At the end of a typical biohazard decontamination job, there should not be a single trace of the tragedy/violence that took place in the space before – this is vital for the successful completion of a task in this industry.
This calls for proper training of cleaning staff – safe removal of blood and body fluid stains from a wide range of materials and surfaces require knowledge of advanced cleaning techniques and tools.
Given the risk of infection from blood or animal remains, cleaning professionals also require training in the use of personal protective equipment (PPE) in any biohazard decontamination situation. They also have to learn how to safely package and dispose of hazardous materials in accordance with FDA guidelines and local regulations.
This is why all Bio-One crime scene clean-up crews are fully trained and educated on the various aspects of the job before they are sent out to professionally complete various decontamination and biohazard cleaning projects.
Integrity and Compassion
Many crime scene cleaning projects involve visiting private residences or business premises. Our decontamination and biohazard cleaning professionals routinely have to deal with individuals and families who have undergone a life-changing situation, or a highly traumatic experience.
They understand the need for a delicate yet comprehensive cleaning approach, with an emphasis on respect and compassion for the families. Bio-One teams make it a point to cause minimal disruption and always try to discreetly remediate impacted spaces.
We offer discreet crime scene cleanup services to our clients. The focus is entirely on removing all traces of the incident in the shortest possible timeframe so that everyone can put it behind in the past and move on with their lives.
We also conduct background checks on all candidates we interview for a job on our biohazard crime scene cleaning crews. Random drug tests are routinely conducted among our workforce to ensure that we only have individuals who show a high level of integrity on every crime scene cleaning team. This is critical in a business where crews often spend long hours working inside private residences or premises with items of a high value lying around.
Flexibility and Commitment
Crime and violence do not keep any fixed schedule. Mishaps and accidents can happen at any time of the day. We understand how our clients can end up needing a hand in dealing with a crime scene biohazard cleanup at odd hours or at night.
This is why Bio-One support is available 24x7 – you can call us at any time, so call as soon as you need Savannah GA crime scene cleaning services at 912-755-1211. Upon answering the call, we will quickly assign the project to a scene-cleaning team nearest to your location. Our biohazard cleaning team will reach your address in the shortest possible time to handle all decontamination and biohazard cleaning needs.
When Should You Call Bio-One Savannah?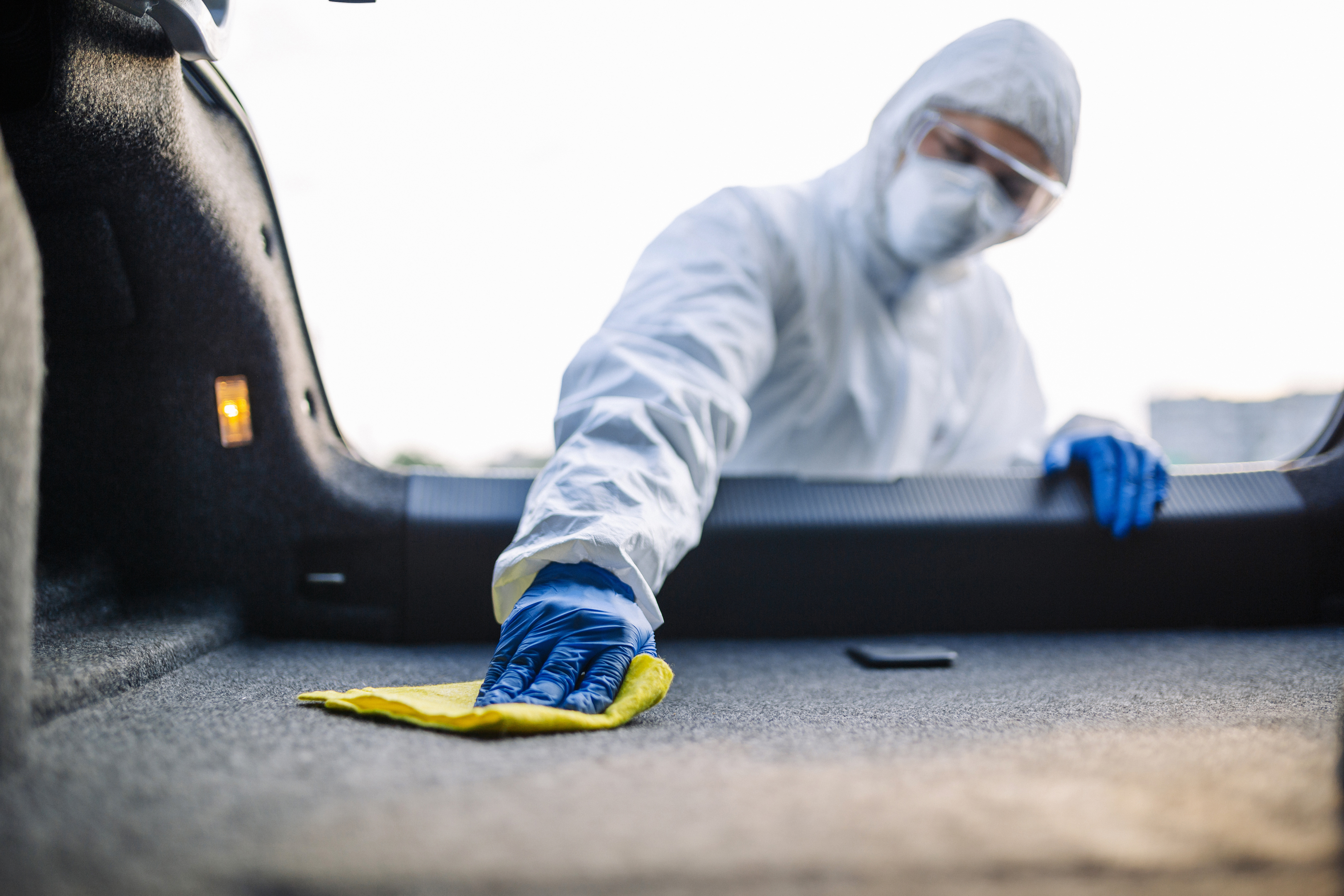 Biohazard cleaning and containment services can prove useful in a wide range of situations. The following are some of the situations where Bio-One Savannah's experienced and discreet crime scene cleaning services can come in handy.
Crime Scene Cleanup
In the immediate moments after a crime, the location falls under the authority of local law enforcement. After the detectives and crime scene investigators have collected all the evidence they deem necessary, the control over the scene is handed over to the original owner largely intact. Crime scene cleanup is not the duty of law enforcement officials or first responders. If there are any blood stains, body fluids, or other biological particles, you need a crime scene cleaning team with prior experience in discreet crime scene cleanup and biohazard decontamination.
Depending on the nature of the crime, you may also have dangerous chemicals, drugs, and other high-risk materials on a crime scene cleanup location. Our cleanup and biohazard decontamination experts have the relevant knowledge and equipment to remove all traces of the incident. BiO-One biohazard cleaning team will discreetly remediate impacted spaces, leaving your property looking spotless, and above all, safe and decontaminated.
Suicide Cleanup
Suicides are much more common than homicides in the United States. In our line of work, we routinely disinfect locations where a suicide has occurred. In the case of a crime scene, once the police and paramedics leave with the body, people call in Bio-One teams for discreet crime scene cleanup.
Every suicide is a great human tragedy – our decontamination and biohazard cleaning teams are always mindful of the toll it takes on family members in the aftermath. We make it a priority to listen to our client's needs and provide a compassionate and highly invigorating service experience.
Firearms and Blood Spill
Since firearms are frequently used in suicides, the scene may have considerable bloodstains and other body fragments. A comprehensive cleaning approach is essential to totally disinfect a blood spill.
Our decontamination and biohazard cleaning experts leave no stone unturned to comb the suicide cleanup scene and remove every single trace of the tragedy and render the place fully sterilized and safe for further use.
Odor Removal
When things smell bad, it is a sign of danger – organic materials give off odors when bacteria are present in large numbers. Toxic chemicals also often have strong odors that give you advance warning of the danger they may pose to your health.
Minor odor complaints can be handled with deodorant products available in the market. But when these products simply fail, it's time to call the experts in decontamination and biohazard cleaning at Bio-One.
Intense Bad Smells
Our crime scene cleanup and biohazard containment teams often deal with house calls where intense bad smells pervade an area due to an accumulation of water damage/mold, urine, fuel/chemical spills, cannabis, and other drugs. These are all situations that require a cleanup and biohazard decontamination company.
Instead of trying to mask the smell with fragrance, the biohazard cleaning team will identify the source and remove it from the scene. This usually involves removing surfaces that have come in contact with the offending substances – carpets, flooring, tiles, drywall, and so on.
Dead Pets, Animals/Rodents
Death is never a pleasant sight, especially when it comes to animals. Whether it is your favorite pet dog or a wild coyote, once they die, decomposition can set in rapidly. Given the humid sub-tropical climate in the state, biohazard decontamination professionals serving Savannah GA often face this challenge.
Sometimes, matters can get even worse – small rodents and vermin often roost in hiding places inside your home – attics, between drywall panels, crawlspaces, basements, and the list continues. And when these animals die, their carcasses are left to rot since nobody can see them. The resulting stench can make your home uninhabitable and pose a potent biohazard risk through the presence of bacteria. Our scene cleanup and biohazard decontamination technicians come fully equipped with masks and other protective equipment.
They will locate the carcass and handle all the decontamination and biohazard cleaning requirements on the spot. And you don't have to worry about carcass disposal either. The Bio-One biohazard cleaning team will safely bag it in compliance with municipal laws and regulations, and dispose of it in a safe and hygienic manner. A Bio-One Savannah scene cleanup and biohazard team can handle all your animal-related cleanup and biohazard decontamination needs.
Decomposition/Undiscovered Death Service
Sometimes, suicides and natural death involving people who live alone in an apartment can go unnoticed for days or even weeks. This will result in quite horrifying levels of decontamination of the surrounding area.
The human body can give off potent odors and ooze liquids and gases after a few days of putrefaction/decomposition. You may feel that it's impossible to fully disinfect and recover a space that has seen such horrid levels of contamination.
But through the careful application of industrial-grade deodorizers and disinfectants, our biohazard cleaning team can help you overcome even scenes of decomposition/undiscovered death. As always, Bio-One decontamination and biohazard cleaning teams offer a discreet and compassionate service to our clients who are traumatized by such events.
Feces/Urine Cleanup Service
Human and animal waste are fertile breeding grounds for dangerous micro-organisms. The list includes diseases such as Hepatitis and E Coli. You cannot leave such areas untreated if you have people living nearby.
Our decontamination and biohazard cleaning teams handle both human and animal feces/urine removal on a regular basis. Our teams efficiently remove both the actual waste particles and any residual stains or odors that remain in the area.
Homeless Encampment Cleanup Service
Homelessness is a socio-economic tragedy that affects many local communities, particularly those in urban areas. In relation to this, homeless encampments can also pose a nuisance to owners of vacant buildings as well as the general public.
Bio-One homeless encampment cleanup teams work in close coordination with local law enforcement to handle homeless encampments with the utmost respect and care. A vacated camp is rife with biohazards like feces, urine, blood, body fluids, junk, and used hypodermic needles.
Our homeless encampment cleanup team will clear up everything and decontaminate the space while paying close attention to any valuable belonging to the individual residents of the encampment. We make it a point to treat all unfortunate unsheltered individuals with compassion and respect. Learn more about our homeless encampment cleanup service by contacting today!
Decluttering and Hoarding Cleanup
Hoarding is a very common behavior often associated with various forms of mental health disorders. Often such residences suffer from an accumulation of garbage, rotten food, animal feces (with pet hoarding), and even human feces/urine.
This is an incredibly painful problem to deal with if the victim is someone in your family. Bio-One technicians offer a highly compassionate and discreet decontamination and biohazard cleaning service to the community, keeping in mind the unique needs and concerns of your situation.
Our teams excel in providing clear supportive communication to our clients. and offer a wide array of services, including deep cleaning, garbage removal, decontamination, and recovery of valuables hidden or lost amidst piles of junk.
Bio-Recovery Mold Remediation
A mold infestation in your house can create health problems for children and seniors in your family. It can also degrade the building materials and give off foul odors that reduce indoor air quality. In extreme cases, a major mold infestation can make any home unlivable.
Apart from health issues, mold can also drastically reduce the sale value of any real estate property. Biohazard decontamination professionals serving Bio-One clients in Savannah GA are well-versed in the art of seeking out hidden mold infestations and then rooting them out using the best-in-class disinfectants and decontaminants.
If you suspect the presence of mold in your house or rental property just give us a call – we will send a biohazard cleaning team to conduct an initial mold assessment. If the presence of mold is confirmed, we can help remove all traces of it with extreme prejudice.
Choose the Most Dependable Provider of Biohazard Cleanup Services - Bio-One Savannah!
If you find yourself in any of the situations mentioned above, you can rely on Bio-One Savannah in Georgia for all your specialized crime scene cleanup and biohazard decontamination needs. We can also work with your insurance company to reduce the out-of-pocket costs of any biohazard decontamination job.
As a trusted experienced and discreet decontamination cleaning company, we provide comprehensive remediation in niche situations like tear gas removal, emergency vehicle decontamination, blood spill cleanup service, and medical waste disposal.
To request any of our decontamination and biohazard cleaning services in Savannah GA, or surrounding communities, give us a call at 912-755-1211 or fill out the Service Request Form on our Contact Us page. To read more of our content, visit our Blog Page.